Social media video content has now gone from "nice-to-have" to "must-have", which is why it's important your business is sharing industry-relevant video content with your audience. BlazingSocial offers a substantial library of mortgage, real estate, and insurance videos, including a Spanish closed caption option. Schedule a time for the video posts to publish and we'll take care of the rest. With BlazingSocial, sharing social video has never been easier.
Reasons Why You Need Video on Social Media:
Social video generates 1200% more shares than text and images combined
Explainer videos are great for presenting difficult concepts
68% of customers prefer explainer videos
Videos boost conversions from audience to customers up to 80%
Videos build trust with your audience
Videos on Facebook improves ranking, which increases your audience
Personal Video Thumbnail Branding
BlazingSocial contains videos branded with your contact information. When customers share your videos on social media, your brand goes with the shared video. You can add customized call to action links for lead generation, such as apply now, download my app, contact me, etc. The possibilities are endless.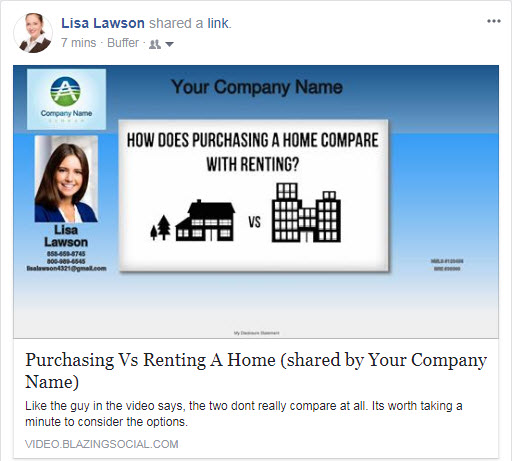 Mortgage Topics
Credit
FHA Loans
First Time Home Buyers
Home Finance
Choosing Mortgages
Reverse Mortgages
Title & Closing
TRID
VA Loans
| | | | |
| --- | --- | --- | --- |
| Ability-To-Repay Exemptions | About 203(b) and 203(k) FHA Loans | About FHA Closing Costs | After Your Loan Application… |
| Are FHA Loans Assumable? | Can I Pay Off Early? | Choosing Your Home Loan | Choosing Your Lender |
| Closing Costs Explained Visually | Closing Disclosures: Important Additions | Credit History & The FHA | Do I Need Homeowners Insurance? |
| FHA Debt-To-Income Ratios | Find Your Credit History | First-Time Mortgages? | Fixed-Rate Mortgage Advantages |
| Fixing Credit History Errors | How Can The FHA Help? | How Interest Affects Mortgages | How Large A Down Payment Do I Need? |
| How Lenders Decide Your Maximum Loan | How To Compare Loans | HUD HECM Mortgage Insurance | If You Fall Behind On An FHA Loan… |
| If You Fall Behind On Your Home Loan… | Improving Your Credit Score | Key Factors In Mortgage Payments | Key Steps To Secure Your Loan |
| Lending Process DOs and DON'Ts | Loan Estimates: Loan Costs | Loans Covered By TRID Disclosures | Loans NOT Covered By TRID Disclosures |
| Lower FHA Mortgage Premiums | Lower Your Homeowners Insurance Costs | Major VA Loan Types | Older Vs Newer Homes |
| Preferred Lenders: Best Choice? | Pre-Qualifying vs Pre-Approval | Purchasing Vs Renting A Home | Removing PMI From Loans |
| Reverse & Existing Mortgages | Reverse Circumstances To Consider | Reverse Mortgage Amounts | Reverse Mortgage Payments |
| Reverse Mortgage Repayment | Reverse Mortgage, Social Security, Medicare & More | Reverse vs Home Equity Loan | Reverse, Heirs & Estates |
| Reverse-Eligible Types of Homes | The Closing Process For Home Sellers | The Main Types Of Mortgages | TRID Loan Estimates: 6 Required Pieces of Information |
| TRID Loan Estimates: Terms, Payments, Closing | TRID Refunds: If Your Loan Exceeds Your Estimate | TRID What Is A Business Day? | TRID Calculating Your Cash To Close |
| TRID Can Creditors Revise Loan Estimates? | TRID Can Lenders Request More Information? | TRID Do Lenders HAVE To Approve In 3 Days? | TRID What Does The Loan Estimate Tell You? |
| TRID What Lenders Must Disclose | TRID When Do I Get My Closing Disclosure? | Understanding Joint VA Loans | Understanding Loan Estimate Comparisons |
| Understanding Loan Fees | Understanding Reverse Mortgage Interest | VA Funding Fee Exempt? | VA Loans & Your Discharge |
| VA Loans And Divorce | VA Loans: For Farms? | VA Loans: For Rentals? | VA Loans: More Than Once? |
| What Are Builders Incentives? | What Are Construction Perm Loans? | What Are Discount Points? | What Are Home Warranties? |
| What Are Real Estate Commissions? | What Are The Steps In FHA Loans? | What Are VA Loans? | What Does A Mortgage Cover? |
| What If Interest Rates Fall? | What Is A Mortgage? | What Is A Rate Lock? | What Is A Reverse Mortgage? |
| What Is Ability To Repay? | What Is Equity? | What Is Loan-To-Value (LTV)? | What Is Mortgage Insurance? |
| What Is PMI? | What Is Prime? | What Is RESPA? | What Is The FHA Loan Limit? |
| What Makes Up Closing Costs? | What Qualifies As Income For FHA? | What's An Appraisal? | What's A Credit Score? |
| What's A Qualified Mortgage? | What's Debt-To-Income? | What's The VA COE? | When Do ARMs Make Sense? |
Real Estate Topics
Topic categories include:
Listing Homes For Sale
Finding Homes to Buy
Going To Market
Home Finance & Mortgage
Home Sales Process
New Homes
Selecting Homes
Title & Closing
TRID
| | | | |
| --- | --- | --- | --- |
| 6 Home-Selling Mistakes | After Your Loan Application | Am I Ready To Buy? | Be There For Inspection? |
| Calculating Your Asking Price | Closing Costs Explained Visually | Closing Meetings For Sellers | Comparing New-Home Builders |
| Comparing Production vs Custom Builders | Determining Property Tax Risks | Determining Your Housing Needs | Determining Your Initial Offer |
| Do I Need A Lawyer To Buy? | Do I Need Homeowners Insurance? | Final Walkthrough Warnings | Fixed-Rate Mortgage Advantages |
| For Sale By Owner? | Home Sales Tips: Prepping The Inside | Home Sales Tips: Prepping The Outside | How Do I Evaluate An Offer? |
| How Do I Select a Broker? | How Interest Affects Mortgages | How Is A Home Marketed? | How Large a Down Payment Do I Need? |
| How Lenders Decide Your Maximum Loan | How Long Will Lenders Keep My Records? | How To Make An Offer | How To Pick Your Community |
| If You Fall Behind On Your Home Loan | Improving Your Home's Value | Keeping Track Of Homes | Key Factors In Mortgage Payments |
| Key Issues Before Buying A Home | Key Steps To Secure Your Loan | LEAD In Homes! | Learn Your Community Resources |
| Loan Estimates: Loan Costs | Loans Covered By TRID Disclosures | Loans NOT Covered By TRID Disclosures | Lower Your Homeowners Insurance Costs |
| Making Your Home Ready To Sell | New Homes: Use An Agent? | New Homes: Use An Attorney? | Older Vs Newer Homes |
| Powerlines: Health Hazard? | Preparing For Internet Showing | Pre-Qualifying vs Pre-Approval | Purchasing Vs Renting A Home |
| Setting Your Price | Start The Home-Buying Process! | The Closing Process For Home Sellers | Title Insurance Explained Visually |
| TRID Closing Disclosures: Understanding Page 1 | TRID Loan Estimates: 6 Required Pieces of Information | TRID Loan Estimates: Other Costs | TRID Loan Estimates: Terms, Payments, Closing |
| TRID What Is A Business Day | TRID Calculating Your Cash To Close | TRID Can Creditors Revise Loan Estimates? | TRID Can Lenders Request More Information? |
| TRID Can My Settlement Charges Change? | TRID Could My Loan Exceed The Estimate? | TRID Do Lenders HAVE To Approve In 3 Days? | TRID What Does The Loan Estimate Tell You? |
| TRID What Lenders Must Disclose | TRID When Do I Get My Closing Disclosure? | Walkthrough: What To Look For | What About Flood Plains? |
| What Are Builders Incentives? | What Are Discount Points? | What Are Home Warranties? | What Are Real Estate Commissions? |
| What Can I Ask Brokers? | What Do Home Inspectors Do? | What Do I Get At Closing? | What Does A Mortgage Cover? |
| What Happens On Closing Day? | What If Interest Rates Fall? | What If You Feel Excluded? | What Is A Counter-Offer? |
| What Is A Mortgage? | What Is A Rate Lock? | What Is Ability To Repay? | What Is Earnest Money? |
| What Is Equity? | What Is Escrow? | What Is Loan-To-Value (LTV)? | What Is PMI? |
| What Is The Punch List? | What To Ask When Looking At Homes | What's An Appraisal? | What's A Decorating Allowance? |
| What's A Good Faith Estimate? | What's A Qualified Mortgage? | What's An Inspection Clause? | What's Debt-To-Income? |
| When Do ARMs Make Sense? | When Should I Sell | Which Square Footage Figure? | Your Rights For Closing Disclosures |
Insurance Topics
Title Insurance Topics